Victoria Beachcomber Resort & Spa
Our Opinion
Le Victoria is the most spacious 4-star hotel in Mauritius. Located on the North-West tip of the island, it is conveniently positioned between Grand Baie and Port Louis, the capital – a perfect option for family holidays in Mauritius! It has a wide range of land and water sports.
All Inclusive
Dining Options
Family Friendly
Family Rooms
Kids Club
How Our Clients Rate Victoria Beachcomber Resort & Spa
Feedback Criteria
Average Rating

Other Water Activities
TA WIDGET
Special Offers
2018-19 Repeat Client Offer - 5% Discount
Enhanced June 2019 Late Booking Offer - 20% Discount
Enhanced May 2019 Late Booking Offer - 20% Discount
Enhanced July 2019 Late Booking Offer 20% Discount
May Flash Sale 30% Discount (Aug-Oct)
2019 Children's Offer (May-Sep)
Summary
This hotel is nestled on the protected Western coast of Mauritius and overlooks a bay sheltered from the trade winds. The resort has a 1.3 km long pristine white beach.

Resort Works Notification:

The resort have had to reconsider the timeline for their works project and have decided to delay the works until the appropriate time in 2018. Please ask us for more details.

Le Victoria more than ever offers to its guests the typical Beachcomber experience, as well as enhanced facilities thanks to the other projects already implemented. The hotel now boasts a change in the colours of the lobby with softer shades, a fully connected Skype Bar, with complimentary high-speed Wi-Fi connection and stunning views over the pool and the ocean, a Teens Club with networking facilities and an exclusive mobile application (Beachcomber TAMTAM). It also offers a comprehensive All Inclusive Package - please ask us for more details.



Sample Packages
Room Type:
Superior Room (First Floor)
Travel Period:
01/06/2019 - 30/06/2019
From per person
Subject to availability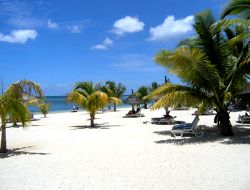 June Summer Getaway!
Quoted prices include stated offers and discounts, are indicative and can fluctuate. Please contact us for latest prices.