Our Opinion
A small and very well presented resort on the west coast of Praslin. It has a lovely open feel ideal for couples and families alike. The rooms are airy and have benefited from a recent refurbishment.
How Our Clients Rate Le Domaine de la Reserve
Feedback Criteria
Average Rating
TA WIDGET
Special Offers
2020-21 10% 60-Day Early Bird Benefit
Summary
Le Domaine de La Réserve Hotel, Praslin Island Seychelles, has a wonderful setting at the beautiful Anse Petite Cour on the island of Praslin in the Seychelles. The beach is essentially private with white sand, granite boulders at each end and views of Curieuse Island in the distance.

It is the perfect spot for a relaxing, with its beach front villas for your holiday. However, if you'd like to do activities, it's a good base. Snorkelling is a must with a beautiful coral reef just centimetres from the beach and it is bursting with life.

Le Domaine de La Réserve is a very welcoming 40 room hotel with a cluster of Creole Style buildings each housing a warm Seychellois feel. It also boasts one of the largest swimming pools in the Seychelles. It is situated on Anse Petite Cour, which is located in the Curieuse Island Marine National Park, with its own exclusive beach and protected by a reef that provides the gentlest of waters for swimming and snorkelling.


Sample Packages
Room Type:
Colonial Superior Room
Transfers:
Domestic Flight & Speedboat
Travel Period:
07/01/2021 - 31/10/2021
From per person
Subject to availability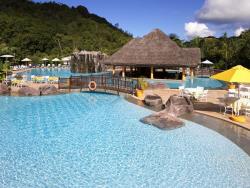 Great Location!
Quoted prices include stated offers and discounts, are indicative and can fluctuate. Please contact us for latest prices.