Le Domaine de L'Orangeraie
Our Opinion
Le Domaine de L'Orangeraie is well worth considering for those guests wishing to spend a few days on the superb island of La Digue as part of their holiday in the Seychelles. Beautifully designed around an Indonesian concept and located in a wonderful setting, Le Domaine de L'Orangeraie offers ideal accommodation for couples/honeymooners and families.
How Our Clients Rate Le Domaine de L'Orangeraie
Feedback Criteria
Average Rating
TA WIDGET
Summary
Located on the northwest coast of La Digue, a few minutes from the jetty and a mere 40m from the sea front of Anse Severe, Le Domaine de L'Orangeraie is a new self-catering establishment whose bungalows are hidden in an enchanting garden. Inspired by the island architecture, Le Domaine de L'Orangeraie boasts spacious 70m² suites styled to create a natural Zen ambiance that will awaken all of your senses and provide the feeling of a true island experience. Nestled between the renowned giant granite boulders and the white sandy coves, Le Domaine de l'Orangeraie is a dream retreat. Opened late in 2004, this small, stylish hotel on La Digue adds another dimension to the island's accommodation and ensures a memorable and comfortable stay.

The meal options offered at Le Domaine de L'Orangeraie are self-catering, bed & breakfast and half board. The half-board option is provided in collaboration with La Digue Island Lodge and the prices include return transfers. Bicycle rental and excursions can be organised at reception.

Please note, Le Domaine de L'Orangeraie will be closed between 1 December and 20 December 2019

Sample Packages
Travel Period:
01/07/2019 - 25/08/2019
From per person
Subject to availability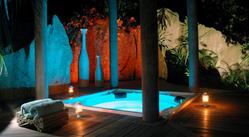 Wonderful Setting!
Quoted prices include stated offers and discounts, are indicative and can fluctuate. Please contact us for latest prices.