Our Opinion
LUX* Grand Gaube is situated in the centre of the Grand Gaube fishing village. It has just reopened following an extensive refurbishment programme. We look forward to visiting it.
All Inclusive
Beach
Dining Options
Family Friendly
Kids Club
How Our Clients Rate LUX* Grand Gaube
Feedback Criteria
Average Rating

Service

Dining

Bars

Facilities

Spa

Non-Water Activities

Other Water Activities

Desire to Return...
TA WIDGET
Special Offers
2019-20 5% Peak Campaign Offer
2020 Honeymoon/Anniversary Benefits
Summary
A pioneering vision from designer Kelly Hoppen delivers an eclectic retro-chic lifestyle that's effortlessly sophisticated, yet blissfully informal. Amidst lush tropical gardens, LUX* Grand Gaube is enveloped by undulating coves, the calmest of lagoons and is blessed with two tranquil beaches and two spectacular swimming pools. A global culinary journey leads to live cooking stations at the Palm Court, Peruvian and Argentinian cuisine and INTI, authentic Creole flavours at Banyan and a Turkish twist at Bodrum Blue.

Sample Packages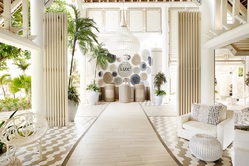 Good value
Travel Period:
01/06/2020 - 24/07/2020
From per person
Subject to availability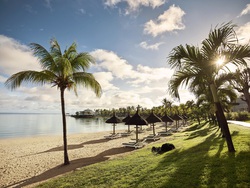 Great Location in Grand Baie!
Quoted prices include stated offers and discounts, are indicative and can fluctuate. Please contact us for latest prices.