Trou Aux Biches Beachcomber Resort & Spa
Our Opinion
In a perfect position on the North West coast of Mauritius, Trou aux Biches is nestled in an arbour of greenery bordering a long white beach that stretches over two kilometres along a calm and sheltered lagoon.
This is a 21st Century resort in every respect, with top quality rooms, facilities, service and restaurants (the Indian - Mahiya - is our favourite!).
All room categories are modern, spacious and stylish with classy fittings, and the (fairly expensive) villas are fantastic and absolutely ideal for families.
A brand new 18-hole golf course - Mont Choisy has now opened. It will be the first in this region of the island and will complete a truly impressive resort.
Dining Options
Family Rooms
Golf
Kids Club
Luxury
How Our Clients Rate Trou Aux Biches Beachcomber Resort & Spa
Feedback Criteria
Average Rating
TA WIDGET
Special Offers
2018 Repeat Client Offer - 5% Discount
2018 Long Stay Offer - 30% Discount
2017-18 20% Early Booking Offer
Summary
Trou Aux Biches stands north of Port Louis on the north western coast of the island and takes its name from a neighbouring fishing village. Set in lush gardens, it is ideally located along one of the most beautiful lagoons on Mauritius. Perfectly protected by a coral reef and bordered by two kilometres of white sand and magnificent tropical gardens, the hotel's lagoon is certainly one of the most beautiful swimming and dive sites on the island.

Accommodation is housed in suites and villas with private pools and the resort's unique atmosphere is preserved while focusing on space, serenity and communion with nature.

There is a choice of six excellent restaurants and an optional 'Full Board Plus' package, which includes drinks with meals.

Extensive and high quality facilities provide a wide range of complimentary land and water sports, free kids and teens clubs and a fabulous Spa.
Sample Packages
Travel Period:
01/05/2018 - 30/09/2018
From per person
Subject to availability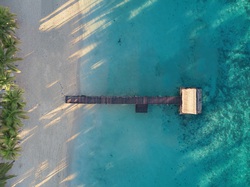 Great Location - Great Beach!
Quoted prices include stated offers and discounts, are indicative and can fluctuate. Please contact us for latest prices.