Vakkaru Maldives Baa atoll
Our Opinion
Opened in December 2017, Vakkaru is the brainchild of Egyptian owners with a shrewd eye for detail and luxury. Design is contemporary, with expansive spaces and interiors bang up-to-date, yet still retaining a style that is sympathetic to the destination. Expensive materials, finishing touches and mod-cons abound. The impression is of homely and sophisticated luxury. It's a little surprising that some of the rooms do not have pools, which seem to be mandatory at the very top end resorts. On the other hand, the massive four bed Over Water Residence is undoubtedly on a par with the best over-water villas in the Maldives.
We're delighted with how considerate the development has been, preserving the natural environment on land and underwater. The result is a beautifully lush island with dense tropical foliage, and a house reef in great condition with a wide variety of marine life.
Facilities are first class, with the dive and water sports centre amongst the classiest to be found anywhere. We were assured by the team that if there was any 'new trend' in water sports equipment, they'd be the first to have it. The over water spa is a lovely complex of treatment rooms and cabins.
There's a range of dining options, as one would expect, and our picks are the beach-side Vakku restaurant and the over-water Lagoon Bar.
Note: we visited during a soft-opening period and not all facilities were complete, so Vakkaru does not yet make it onto our Highly Recommended list. We'll be returning soon to reassess.
Dining Options
Diving
Family Rooms
House Reef
Kids Club
Luxury
No News No Shoes
Overwater Villas
Rooms With Pools
Seaplane Transfer
Snorkelling
How Our Clients Rate Vakkaru Maldives
Feedback Criteria
Average Rating

Dining

Excursions

Diving

Other Water Activities
TA WIDGET
Special Offers
Winter 2018 Special Discount (Oct-Dec)
Summer 2018 30% Discount Special
2018 - Honeymoon Offer 25% Discount (4+ nights)
Summary
Located in Baa atoll, a UNESCO Biosphere Reserve, Vakkaru is a 25 minute seaplane ride away from Male. The island will offer 125 suites and villas, both beach and overwater combining the rustic charms of Maldivian culture alongside earthy yet elegant designs.

The island features over 1400 fully grown coconut trees and the main areas will offer four restaurants, two bars, extensive leisure facilities as well as a kids club.


Sample Packages
Flights:
Sri Lankan Airlines
Travel Period:
09/04/2018 - 30/09/2018
From per person
Subject to availability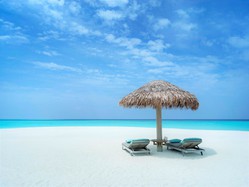 Opened in December 2017!
Quoted prices include stated offers and discounts, are indicative and can fluctuate. Please contact us for latest prices.