Dusit Thani Maldives Baa atoll
Our Opinion
All rooms at Dusit Thani are extremely luxurious and spacious and the food is fantastic, we particularly liked the impressive breakfast presentation at 'The Market' restaurant. A visit to the Thai Restaurant Benjarong should also be high on the agenda, set over the lagoon with glorious views of the Indian Ocean. The resort also has an excellent Thai-influenced spa built at tree-top level inspired by the Devarana concept of 'Garden in Heaven.'
The island, located in the Baa Atoll is encircled by a rich house reef and the well-known Hanifaru Huraa dive site is only a 5 minute speed boat journey away. Dusit Thani, Maldives is certainly a resort to add to your shortlist if you are considering the 5* end of the market.
All Inclusive
Dining Options
Diving
Domestic Flight
Family Rooms
House Reef
Luxury
Overwater Villas
Rooms With Pools
Seaplane Transfer
Snorkelling
How Our Clients Rate Dusit Thani Maldives
Feedback Criteria
Average Rating
TA WIDGET
Special Offers
2018 Winter Promotional 40% Discount and free upgrade HB Dine Around to Pure Indulgence (Oct-Dec)
2018 Honeymoon Offer - 5% Discount
(T) Holiday Promotion 40% Discount and upgrade from HB Dine Around to Pure Indulgence
Early Bird Offer 25% Discount
Summary
Dusit Thani Maldives blends graceful Thai hospitality with the unparallelled luxury setting of destination Maldives. It is a sanctuary sheltered by nature. Located on Mudhdhoo Island in Baa Atoll, amidst white sandy beaches and encircled by a rich house reef and turquoise lagoon, the resort is just 35-minutes from Malé by seaplane or a short domestic flight from Male and 10-minutes by speedboat from the new domestic airport in Baa Atoll.

Located near Hanifaru Huraa, a UNESCO World Biosphere Reserve renowned as a feeding ground for manta rays and whale sharks, Dusit Thani Maldives offers guests spectacular diving; snorkelling; a 750 square metre swimming pool – the largest in the Maldives; fully-equipped fitness studio with personal trainer and yoga instructor; resident marine biologist; children's play area and club facility; library with internet stations; and island boutiques. Dusit Thani's signature Devarana spa provides pampering and healing treatments.

Points of Interest
* Beautiful white sandy beaches encircled by a rich house reef and turquoise lagoon
* Vantage point for viewing nature and aquatic life
* Excursions within Baa Atoll, a UNESCO World Biosphere Reserve and nearby Hanifaru Huraa, a seasonal feeding ground for whale sharks, manta rays and other forms of marine life from July – November
* Frequent spotting of dolphins on the outskirts of the lagoon

Restaurants & Bars
Dusit Thani Maldives offers a variety of dining experiences. Market, bringing the culinary world to the Maldives, offers an international array of à la carte selections and an international buffet breakfast and dinner. Their signature Thai restaurant, Benjarong offers exclusive dining with flawless service, paired with the finest wine offerings. The freshest seafood and steaks are grilled to perfection at Sea Grill. Retreat from the midday heat to enjoy poolside snacks at Sand Bar. Sala Bar is perfect for viewing the sunset or stargazing.

* Market (International Cuisine)
* Benjarong (Signature Thai Restaurant)
* Sea Grill (Seaside Grill Restaurant)
* Sand Bar (Beach & Pool Bar)
* Sala Bar (Signature Over-water Bar)

Facilities & Recreation

*Beach service with sun loungers
*Sauna & steam room
*Children's play area and club facility
*Library and internet stations
*Complimentary Wi-Fi around the island
*Welcome lounge for arrival guests at MAT seaplane terminal
*Island shop / boutique
*Doctor available on site
*Marine biologist and active guest conservation programmes

Devarana Spa
Elevated in a grove of coconut palm trees, Dusit's signature Devarana Spa is one of a kind in the Maldives. Devarana Spa features six tree-top treatment pods nestled in to enhance the spa journey.

Opening Hours: 10.00 am. - 08.00 pm. Daily

Sports

*750 sq.m. swimming pool - the largest in the Maldives
*Fully equipped fitness studio with personal trainer & yoga instructor
*Floodlit tennis courts
*Complimentary snorkelling equipment

Watersports

*Complimentary snorkelling equipment
*Dive centre
*Watersports centre


Sample Packages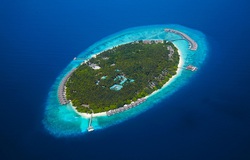 Superb Snorkelling!
Transfers:
Domestic Flight & Speedboat
Flights:
Sri Lankan Airlines
Travel Period:
14/01/2019 - 28/02/2019
From per person
Subject to availability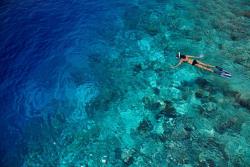 Outstanding Dining!
Quoted prices include stated offers and discounts, are indicative and can fluctuate. Please contact us for latest prices.